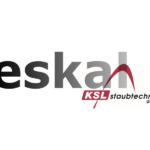 The KSL interleaving powders eskal have been used successfully worldwide for many years for bending flat glass for automotive glazing (laminated safety glass, LSG, e.g. for windscreens or sunroofs). Today they are the standard interleavant for dry application with nozzle applicators. In addition, they are also used by many of our customers in wet application.
Due to the uniquely even particle size distribution (fine and coarse particles are mostly eliminated), a constant distance between the panes is guaranteed over the entire surface. This significantly reduces the reject rate due to optical defects such as lens effects.
All eskal powders are made from calcium carbonate and are therefore perfectly suited for use at high temperatures. They are 100 % chemically and physically stable under the prevailing temperatures of up to 650 °C, adhere reliably to the glass surface and can be easily removed after the bending process. As a natural product, they offer ecological advantages over synthetic alternatives.
eskal - Your benefits at a glance
The worldwide standard for dry application
Temperature stable
Good adhesion to the glass surface
Easily washable
Minimal reject rates due to excellent powder sorting
Non-flammable, no risk of dust explosion
Natural product
Recommendation
Our interleaving powders of the eskal series are available in different particle sizes. Depending on the application, we recommend one of the following types:
eskal 15:
Our standard product for dry application with an average particle diameter of approx. 18 µm
eskal 14:
Our optimized product for dry application based on eskal 15 with a further reduction of coarse particles.
eskal 10:
For applications which require finer particles. Variant with an average grain diameter of approx. 10 µm.
eskal 500 plus:
Our finest variant for dry application with an average particle diameter of approx. 5 µm. Particularly suitable for larger bending radii or multilayer bending of e.g. bulletproof glass.
eskal 500:
Our standard powder for wet application with an average particle diameter of approx. 5 µm.
1 kg bag – 12 x 1 kg per carton

Downloads for this product