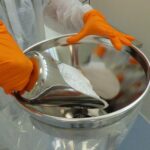 Contract filling clean room
according to DIN EN ISO 14644-1 class 8
A class 8 clean room according to DIN EN ISO 14644-1 is available for filling powders with high demands on purity and quality. The clean room also corresponds to class D in accordance with Annex 1 of the EU GMP guidelines.
In addition to the maximum permissible and constantly monitored particle concentration, this also guarantees a dry atmosphere with a relative humidity of less than 30 % for hygroscopic or moisture-sensitive powders.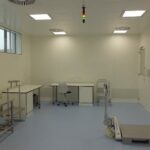 By implementing reliable processes that are secured and documented by QM rules in accordance with ISO 9001, we protect your powders from contamination and moisture. Our clean room is suitable, for example, for contract filling of various preliminary products or auxiliary materials in the pharmaceutical industry as well as food supplements.
We look forward to your inquiry stating the powder to be filled, the packaging size, the type of container (can be selected and provided by the customer) and the total filling quantity.