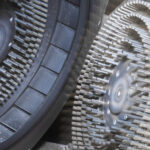 Mechanical process engineering has provided us with the tools to offer our customers high-quality powders and dusts since 1949. In order to produce powders with defined and constant particle sizes, we have acquired an extensive know-how over the years in the following process steps: grinding, sieving, (air) separating and mixing.
Our customers can also benefit from this expertise, as we produce tailor-made powders and dusts according to customer specifications in contract manufacturing.
In addition, we offer the possibility of contract filling of delivered powders – if necessary, also under clean room conditions.
Our possibilities
The particular technical process steps and the filling of powders can be carried out either individually or in any combination.