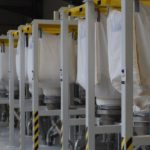 Every working day, we supply our customers with an average of around 6,000 kg of technical dusts and powders. Most of them are packed in 1 kg bags and shipped in 12 x 1 kg cartons. This throughput is possible by a highly modern filling system in conjunction with our qualified employees. Screw-top jars, cans, buckets and big bags can also be filled. In this way, packaging units from 25 g to 1000 kg are realized.
Of course, you can also choose and provide the desired containers for contract filling. The filled units are for example used for sample dispatch by our customers.
A class 8 clean room according to DIN EN ISO 14644-1 is also available for filling of particularly sensitive powders.
We look forward to your contacting, stating the desired packaging size, container type and total filling quantity.