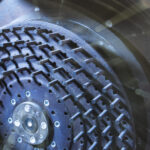 For our products of mainly limestone and starch, we process more than 10 tons of coarse bulk material every day into fine fractions using pin mills. The ground material is mainly comminuted by impact crushing and is therefore particularly suitable for crushing brittle and not very hard materials or for separating agglomerated powders. Mills for very hard materials or cryogenic grinding are not available.
In addition to individual contract milling, a combination with other services such as sieving and/or mixing is also possible. Finally, the processed powders are filled according to your wishes (from small quantities of just a few grams to big bags).
We look forward to your inquiry, stating type and quantity of the ground material, the desired particle size range and the preferred type of filling.