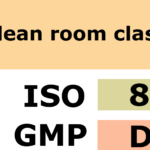 Clean room ISO class 8 / GMP class D
The standard DIN EN ISO 14644-1 defines different clean room classes. These define the maximum permissible particle concentrations (particles per cubic meter of air) in different size classes.
Our clean room corresponds to class ISO 8 or class D according to Annex 1 of the EU GMP guideline. In addition to the maximum permissible and constantly monitored particle concentration, a dry atmosphere with a relative humidity of less than 30% is also guaranteed.
All clean room processes are documented in our QM system and certified according to ISO 9001. The handled powders are e.g. preliminary products or operating and auxiliary materials from the pharmaceutical industry as well as food supplements. We are looking forward to your contact.