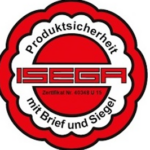 KSL separating powders made from starch (S5, esstar) or calcium carbonate (K4, eskal) can be used safely in the production of food packaging in the printing and plastics/film industry.
The ISEGA certificate confirms that all powders of these four series are suitable for direct contact with all types of food and their packaging.
In addition to the respective food safety certificates, you can find the declarations of conformity for the individual product series for contact with food in the download area. If your requirements are not completely covered by these documents, please contact us directly.