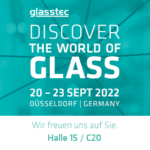 Glasstec 2022
We will take part at Glasstec in Düsseldorf from September 20th to 23rd, 2022 (Hall 15, C20). We are already looking forward to present our products and new developments to you.
Our interleaving powders are tailored to the respective requirement:
Bending of car glass (laminated safety glass): our temperature-stable powders made from natural calcium carbonate ("eskal") are the worldwide standard for dry application and are also suitable for wet application. They are characterized by their narrow particle size distribution. This prevents optical errors and at the same time enables an efficient, economical application.
Separating flat glass for storage and transport: our established "esplas" powder made from recycled PMMA is characterized by reliable adhesion to the pane and economical application. At the same time, we are pleased to present our new "green" development "eseco", our powder made from natural plant granules, guaranteed without microplastics.
Separating sensitive glass surfaces (e.g. coated glass, mirrors): our "esstar plus" powder based on natural starch is particularly suitable for sensitive glass surfaces due to its round, soft particle structure.
We are looking forward to your visit at our joint stand with IfG (Ideas for Glass). After making an appointment, we will be happy to send you a free ticket for your visit to Glasstec.
Feel free to contact us in advance: +49 9072 95000; info@ksl-staubtechnik.de.