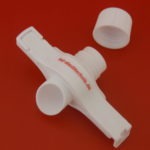 New bag clip with integrated spout
Most KSL anti set-off powders are sold in 1 kg bags. Both economically and ecologically, these bags are advantageous compared to the usual alternatives. They are cheaper and produce less waste than alternative packaging.
However, they also have a disadvantage, which occurs when the powder cannot be filled completely into the applicator and a residue remains in the bag. Then the powder is no longer protected from moisture and contamination, which is necessary to ensure consistently high quality. In addition, when the bags are opened, there is always a risk that powder is accidentally spilled.
The solution is our new bag clip with resealable spout. All you have to do is cut off a corner of the bag and the clip can be easily attached.
Moreover, the integrated spout makes it easier to fill the powder into the applicator. As soon as the bag is completely empty, the clip can be removed simply and placed on the next bag. This means that the spout clip can be reused limitless, which protects resources and is easy on the wallet.
If you are interested, please contact us by telephone: +49 9072 95000 or via e-mail: info@ksl-staubtechnik.de. We would be happy to provide you with the practical spout clips free of charge. This offer applies equally to printing companies as well as our global sales partners.