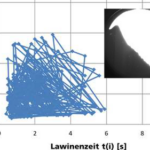 Flow improvement of fine powders
Good flowability is important for separating powders that are applied fully automatically, as this is the only way to ensure smooth application. The pourability of a powder is essentially determined by the particle shape, particle size and its particle size distribution. Other influencing factors are humidity and electrostatic forces in the case of very fine particles.
Basically, the flowability of a powder gets worse with decreasing particle size and drops massively for sizes of less than 10 µm. Because we remove the fine fraction from all our separating powders, this problem does not exist for most of our powders. Only our finest calcium carbonate powders eskal 500 (medium particle diameter approx. 5 µm) and eskal 10 (medium particle diameter approx. 10 µm) are affected.
To improve the flowability, so-called flow improvers or flow aids can be added in small quantities (< 1%). In cooperation with the Fraunhofer IGCV in Augsburg and the Fraunhofer IFAM in Bremen, suitable additives could be tested, and ideal mixing ratios were found in order to further optimize the pourability of our eskal 10 for the plastic film industry.