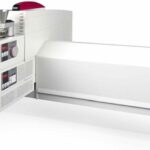 ISO 13320:2009 - Particle size analysis
To ensure the quality and standard conformity of our technical powders and dusts, all produced batches are analyzed with regard to their particle size distribution. For this we use a HELOS/KR laser diffractor from "Sympatec" with three different measuring ranges. By combining these ranges, it is possible to measure fine dusts from 0.9 µm up to much coarser sand particles with a maximum diameter of 1750 µm (1.75 mm).
To ensure measurement reliability, an annual certification according to ISO 13220:2009 is carried out. This enables us to guarantee consistently high product quality for all of our anti set-off spray powders, separating powders and test dusts.
We also perform particle size analyzes of your samples as a service and discuss the results and the effects on your processes with you.