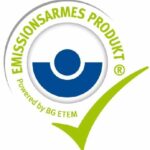 BG ETEM - Low Emission Product
The BG ETEM is the employer's liability insurance association responsible for the entire printing industry in Germany. Since 1995, it has been awarding the quality label "Low Emission Product" for selected printing materials and auxiliaries. The certified powders have to meet decisive criteria for work and health protection in the pressroom.
Since 2004, anti set-off spray powders have been awarded when they are particularly low in fine dust. KSL has been part of this industry initiative from the start and nowadays supplies by far the largest selection of low-emission anti set-off powders (BG ETEM).